Enough information about all the tourist attractions Aruba has to offer. However, besides all these beautiful places known by many of you already, Aruba also has several special gems which we think is worth a visit during your stay! Please find our top 5 Hidden Gems in this new blog!
1. Tres Trapi
The first Hidden Gem, Tres Trapi, is a tiny cove located half a mile from our studios. It is named after the steps (there used to be 3, additional steps were added later on) which are carved into the rocks, to enter the cove and ocean. It is one of the most favorite snorkeling spots among our Sunset-guests! The water is gorgeous and crystal clear. If you snorkel straight ahead, towards the seagrass, chances are high that you will spot sea turtles, sea stars or big schools of fish. This cove is also a great spot for non-snorkelers: just jump in, relax and float in these pristine waters and enjoy the photogenic coastline. You will find Tres Trapi a few hundred meters north of Malmok Beach and just before Boca Catalina, next to the big building with the address LG. Smith Boulevard 105. Tip: to spot the sea turtles, visit the cove before 9am. After that it gets busier and noisier (boats), causing the turtles to swim out.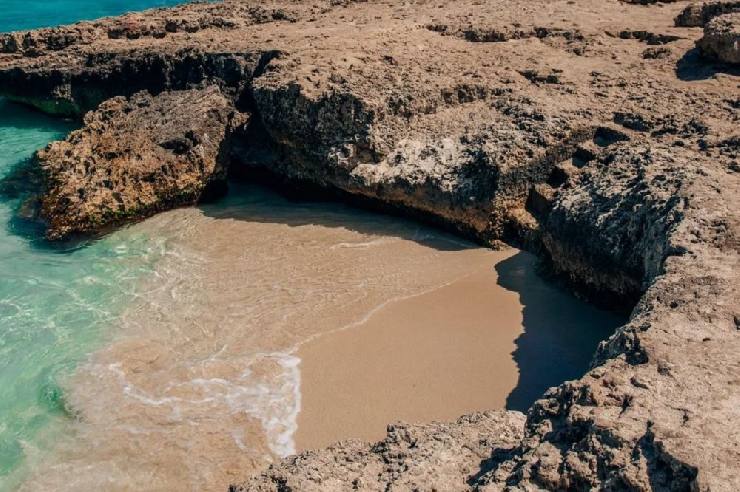 2. Little Aruba
Another special place is Moro, also known as Little Aruba, a huge rock located in the waters of Arikok National Park on the east coast. Does not sound so special, right? Well, the name Little Aruba is derived from the shape of the rock, which, seen from the air, has almost the exact same shape as Aruba. It is located in Boca Keto, one of the island's most beautiful bays, and is definitely worth a visit. The beaches around Little Aruba are quiet, very clean and they give the impression that you are on a private beach. It is accessible by horseback, mountain bike or an all-terrain vehicle. If you are planning to visit the famous Natural Pool, do not forget to take the detour and visit this beautiful hidden treasure also. Please know that you can't swim there; the water is too wild, the waves too high and there is a lot of current.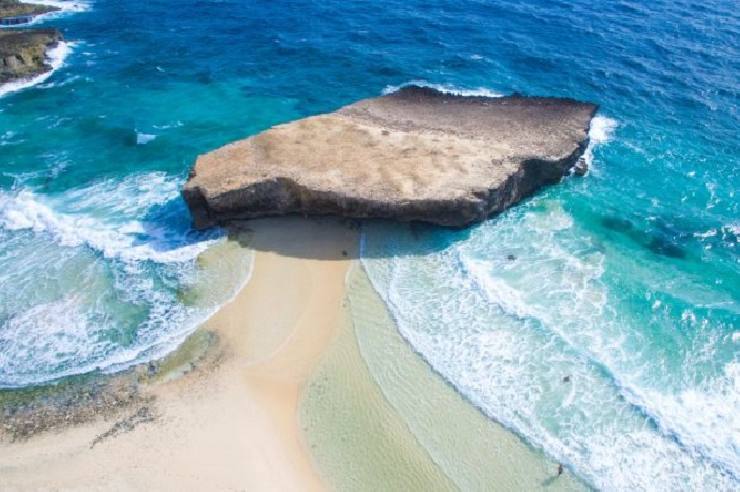 3. Black Stone Beach & the Tripod Bridge
Black Stone Beach is the only beach in Aruba covered in black sand. The contrast hardly could be bigger, compared to all other white beaches. Black stone beach has rounded, volcanic rocks who were created by the erosion of the ocean water, a process of millions of years. The size of the stones varies; on the beach they are larger. Towards the coastline they become smaller and smaller. If you visit this spot, just be quiet and listen to the sensational sound of the waves when they roll over the pebbles. Next to this beach, there is another gem not often visited by tourists: the Tripod Bridge. Where the natural bridge and the small natural bridge only have (had) 2 columns, this bridge has 3 columns. A natural bridge sees the light after prolonged erosion, which creates one, or even two, hole(s) in a cliff rock. The Tripod Bridge is an exceptional natural phenomenon that can be used to make beautiful pictures and films. Black Stone Beach and the Tripod Bridge lie east from Andicuri Beach and the old Natural Bridge, on the rough, east side of the island. Swimming is not recommended due to the currents and high waves. These spots are not accessible by normal car but is only a short hike when you park your car at the former Natural Bridge that, sadly, collapsed in 2005.
4. Volunteer at an animal shelter
The goal of all animal rescue foundations is clear: to improve the life of animals. As most of the Caribbean islands, also Aruba has a lot of stray animals. The weather, as well as a lack of money and infrastructure, have contributed to this tragic problem. Why do we call the shelter a hidden gem? Well, because you can help, join or become a volunteer at one of the shelters. Please help them, help the Aruban animals! If you have room in your home and heart for a pet, you might even consider adoption. There are also other ways you can help: donate supplies, money, visit the shelters, lend a helping hand, become a flight volunteer and bring a pet home to its forever family. Sgt. Pepper's Friends is one of these rescue organizations. You can also join them during their weekly 'socialization walks'. Every Wednesday afternoon and Saturday morning they take dogs (mainly puppies) from the shelter for a walk along Palm Beach. This is not only a great way to inform tourists about the organization and the possibilities to help, but is also important for the dogs to get used to people, other dogs, walk on a leash and to be in a different environment. If you want to join this walk, please contact Marit in our Sunset-office or send the organization a message via their Instagram. Other organizations that could also use your help are Aruba Animal Shelter, Nine Lives Aruba, New Life for Paws and Luna Foundation.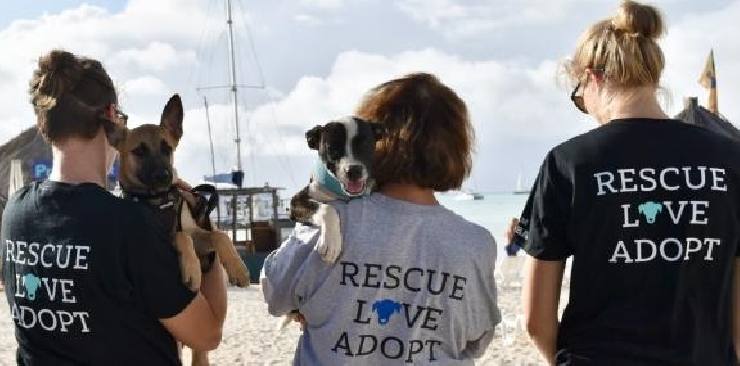 5. Foundation Art & Craft A.R.U.B.A.
Last but not least we choose a local group of artisans who stand for Artisans Recognizes & United By Aruba. Wherever you go, you always want to bring something back home to remember the trip you made, like souvenirs made by local artists. The ARUBA foundation helps artists showcase and sell their products and, at the same time, give tourists the opportunity to take a special handmade souvenir back home. Supported by hotels, weekly markets are being organized where visitors of Aruba can admire and purchase local handmade items. Monday between 4:30 and 6:30PM the market can be found at the Bucuti & Tara Beach Resort. Every Friday between 7 and 10PM in the Renaissance Marketplace. Every Tuesday & Thursday at the Aruba Marriott Resort & Stellaris Casino from 6 until 9PM.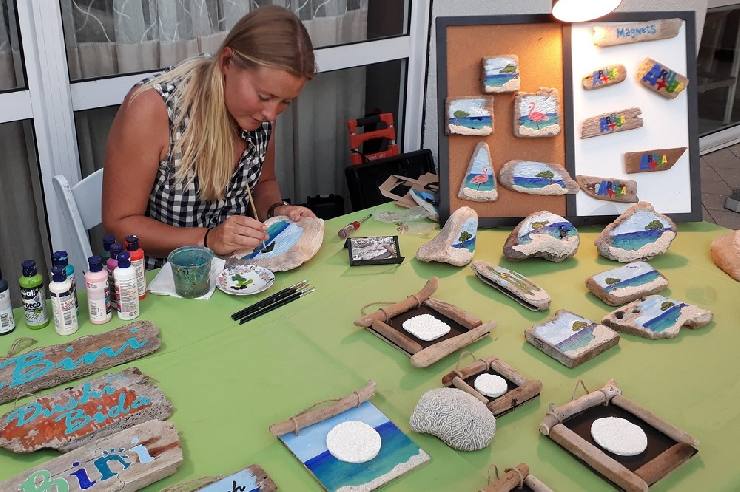 One last tip: did you discover a hidden gem during your stay in Aruba? Please let us know and share it with our other guests so that we can all enjoy the beautiful things Aruba has to offer!