White sandy beaches and crystal-clear turquoise waters are one of the main reasons why tourists travel to Aruba. But which beaches to visit since there are so many to choose from? Next to the famous Eagle Beach, Palm Beach or Baby Beach, there are so many other special beaches to find in Aruba. Sunset-owners JP and Eve are living on the island for over 30 years and have been able to discover them. To go to all of them during your holiday might be a bit challenging, and that is why we are happy to help by sharing our Top 5:
1. Arashi Beach
This local favorite is on the northwestern tip of Aruba, in the direction of The Lighthouse, and only 1.5 mile from our studios. It is known to be less touristy and more laid back. The white sand and shallowness of the water makes it a great spot for sunbathing and swimming. It has several palapa's (also called 'tiki huts') to provide shade, a large parking lot and a beach bar where you can buy drinks, snacks and take a shower. If you enter the water all the way towards the Lighthouse, at the last palapa, Arashi also makes a nice spot for snorkeling if you are an experienced swimmer. Fins are a must because on your swim back in, you have to swim against the current. There is a beautiful elkhorn coral reef and lots of fish to be discovered. Ask Sunset-owner Eve to show you this spot and double check with her if it is a 'safe' day to go out and explore this reef. Do not swim out when there are waves! On windy days, Arashi is also a great place for surfing and bodyboarding. As soon as the wind picks up you will find some decent waves, making it fun to try and catch them.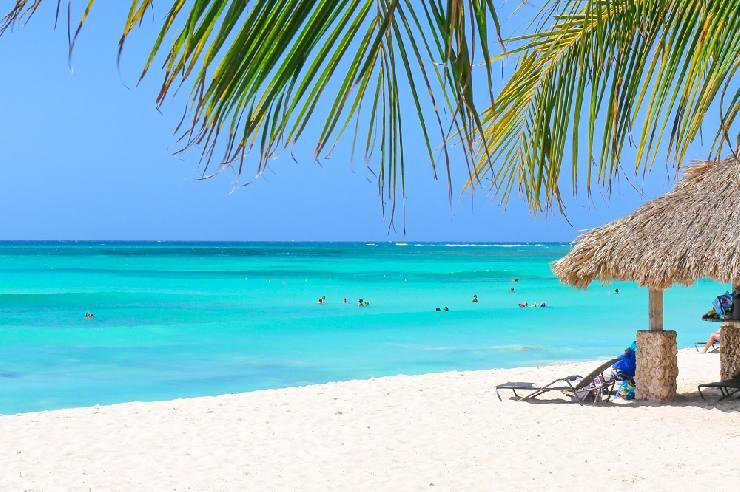 2. Boca Catalina
Boca Catalina is one of the best snorkeling spots in Aruba. Located between Arashi Beach and Malmok Beach it is less than 1 mile from Aruba Sunset Beach Studios and easily accessible by car as there are about 10 parking spots. The beach offers several palapas and a few trees for shade. No beach bar, no shower, no toilets! So bring your own towel, beach chair and refreshments. Boca Catalina is a small, secluded beach with white sand, pebbles and stones, which makes it a beautiful snorkeling spot. When you enter the water, swim towards the right. In front of the white, modern, 2 story house (on your right) there is a shallow coral reef with many different colorful fish. When you enter the water and swim 600 feet towards the left, you snorkel towards 'Tres Trapi'. This little cove is called after the rustic steps that are carved into the rocks to enter the water. While at this spot there are not as many fish as at Boca Catalina, the seagrass areas to spot sea turtles are more accessible from here.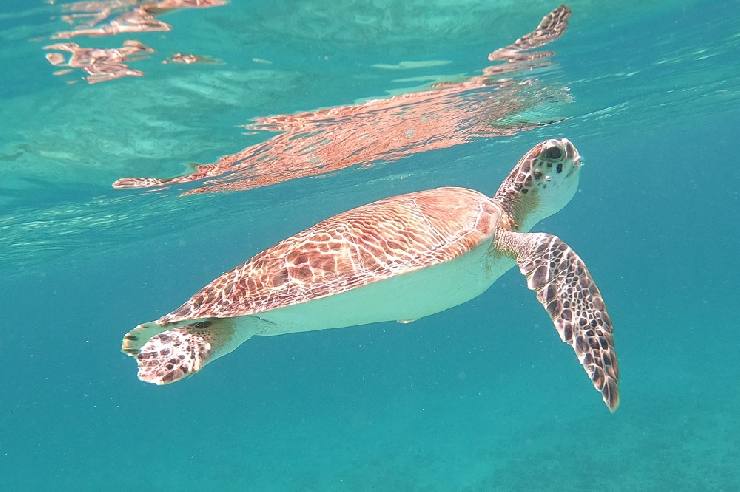 3. Rodgers Beach
This beach is at the southern end of the island, in walking distance of the more familiar Baby Beach. Rodgers Beach is a quiet, more private beach with powder white sand and calm, clear water and popular among the locals. It offers an authentic feel, especially due to the fishermen boats anchored on the left side of the bay. It is a narrow beach with a few palapas for shade and plenty of parking space. There is a dock going into the water with a swimming ladder at the end. Other than that, this beach does not offer many facilities so make sure you bring your towel, beach chair and refreshments. Keep in mind when visiting Rodgers Beach, on the right side you overlook the oil-refinery of San Nicolas. Meaning that, next to the natural beauty of this beach with many great picturesque picture spots, you will also find a contrast.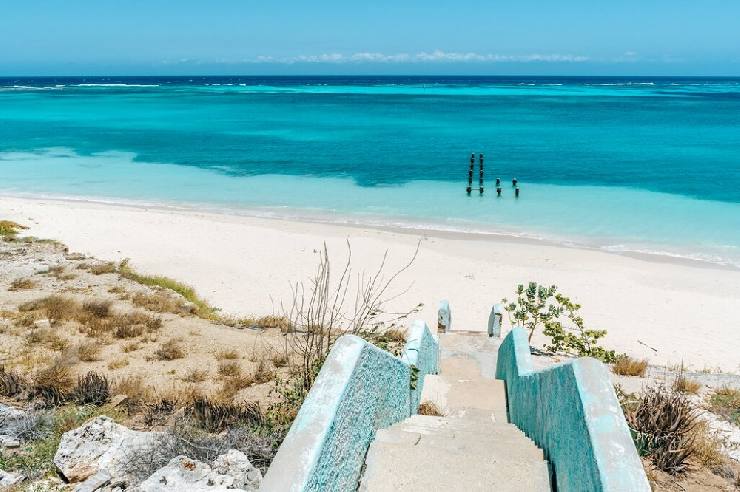 4. Eagle Beach
This TripAdvisor Award Winner for third 'Best Beach in the World 2019' is located in front of the low-rise hotels and is famous to be the widest beach in Aruba with soft white sands and stunning ocean views. It features palapas for shade, sufficient parking, plenty of places to eat and drink and a variety of watersports. Many tourists visit Eagle Beach to take pictures of the two famous Fofoti trees, located in front of Amsterdam Manor. Being one of the most beautiful beaches in the world, Eagle Beach attracts many people which can make it a bit crowded. If you are looking for a similar but more quiet beach, we advise to go to Manchebo Beach, located at the southern extension of Eagle Beach. More wind and a rougher ocean make it less popular by tourists but definitely not less beautiful. Apart from a volleyball net, it has no facilities so bring your own towels, drinks and enjoy!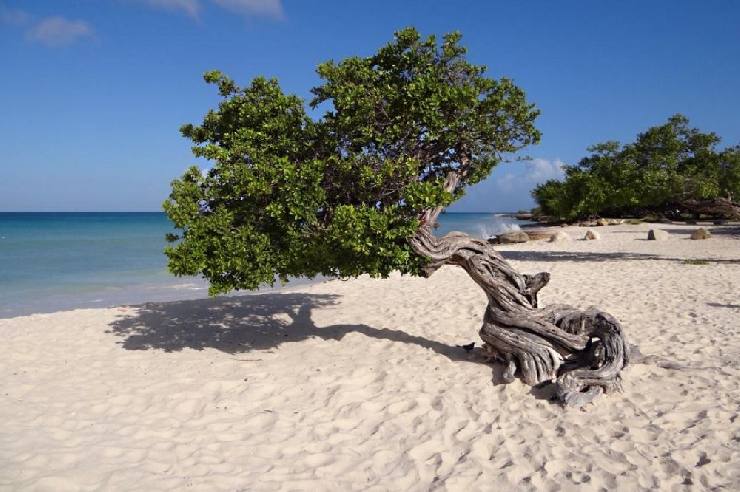 5. Boca Grandi
Boca Grandi is most familiar among watersport fanatics as it is a popular spot for experienced kite surfers and windsurfers. It offers steady onshore trade winds and challenging waves. No advanced kite- of windsurfer? Visiting Boca Grandi and watching the spectacular jumps and riding of the local surfers is just another great activity. This beach is located on the south-east side of the island, far from hotels, restaurants and other facilities and therefore gives you a whole different experience than all the beaches located on the west side of Aruba. The relatively big waves make this beach less suitable for swimming or snorkeling. However, as the wind blows onshore, it is great for beachcombers. You might even find a rare 'sea bean': nuts that grow on tall trees deep in Venezuela's jungles and then float down waterways into the Caribbean Sea. In Aruba we call them 'djucu' and many locals wear them as good luck charms, while some have them set in gold with their initials engraved. We can show you a 'djucu' in our office, so you know what to look out for!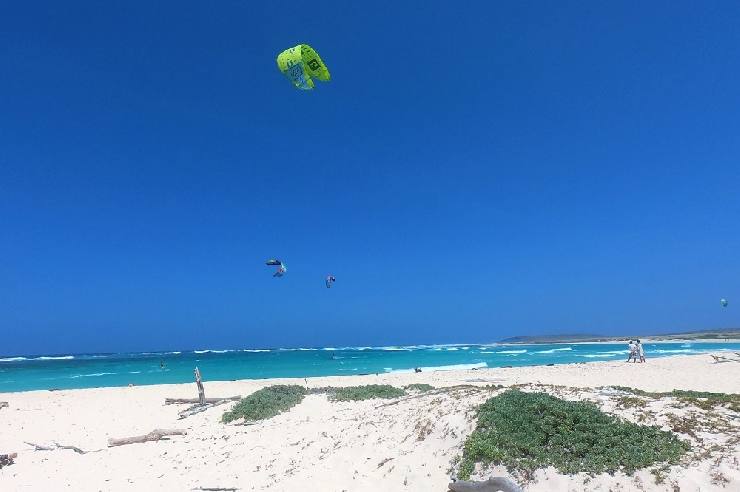 One last tip: while exploring the island, please keep in mind: do not leave any valuables unattended! We hope this list has given you a better idea what beaches to visit during your stay. If you have any more questions after reading this blog, or specific wishes for beaches you want to visit, please do not hesitate, send us an e-mail, call or ask anyone of the Aruba Sunset Beach Studios Team for advice!